In Honor of
Eat a Red Apple Day
December 1st
WE HAVE ALL HEARD THE OLD ADAGE "AN APPLE A DAY KEEPS THE DOCTOR AWAY," but new research has shown that apples have many more benefits than previously thought according to Carolanne Wright of Natural News.com.
"Want to improve memory, endurance or weight loss? Eat an apple.
"How about boosting physical health? Apples can help.
"Threatening diseases like diabetes, osteoporosis, Alzheimer's, asthma and cancer are also diminished by this seemingly ordinary fruit.
"Researchers have discovered that consistent consumption of apples fosters greater health. Asthmatic children who drink apple juice on a daily basis have less wheezing than those who only have apple juice once a month. . . . Apples also help to control diabetes. As a good source of galacturonic acid, apples curb the body's requirement for insulin. Even better, women who eat at least one apple a day lower their chances of developing Type II diabetes by 28 percent.
"Cancer risk is also reduced. A study of 10,000 people found that those who consumed the most apples slashed their lung cancer rates by 50 percent. It is believed that high levels of the flavonoids naringin and quercetin are responsible for this dramatic finding. Additionally, promising research on breast, colon and liver cancer reveals that apples may offer substantial protection. Bone health is enriched by apples too. Scientists in France observed that the flavonoid phloridzin present in apples increased bone density in post-menopausal women. As an added bonus, apples are high in boron -- another bone fortifying nutrient.
"Drinking apple juice decreases the risk of Alzheimer's and age related cognitive decline as well. An apple enhanced diet boosts levels of acetylcholine, an important neurotransmitter that is linked with healthy brain function and memory. In addition, apples prevent gallstones and cataracts, protect against Parkinson's disease, improve heart health, calm irritable bowel syndrome, detoxify the liver and strengthen immune function.
"Apples can help you cross the finish line slim and trim with energy to spare. A good source of ursolic acid, apples assist the body in burning more calories while increasing muscle and brown fat. Researchers at Florida State University believe that antioxidants and pectin also contribute to weight loss associated with apple consumption. What's more, stamina is heightened. Quercetin in apples increases oxygen bioavailability within the lungs -- lending increased endurance."
Sources for this article include:
"15 health benefits of eating apples" Best Health Magazine.
"8 Health Benefits of Apples" The Editors of Huffington Post Healthy Living, Shape Magazine.
"What's New and Beneficial About Apples" George Mateijan Foundation.
Video Starts Here
ANNOUNCEMENTS
UPDATES
GROWING UP IN THE 40S & 50S
Our new series has become so long that it's now divided into 5 pages or sections. You will fine it at the bottom of the list of topics to the left of this HOME PAGE. Look for its title -- GROWING UP IN THE 40s & 50s -- and then choose the subtitle you wish or you can copy and paste the link below in your browser. The latest post is in "Commerce."
11/29 Post: "50s TV Commercials"
Copy & paste: https://www.thestreatorhighschool1958.com/Our-Businesses.htm
HOW I GOT WHERE I AM
It's time for you to write your "story" of where and why you're living where you are. Some have chosen to write a lengthy narrative, which has been wonderful; but I fear it's frightened off others.
Please just share what made you choose your hometown to retire in; or if you're still working, please tell us where and what keeps you going. We'll take stories of any size - we just want to catch up on YOU!
You can email them to me at indianamackey@aol.com or post them on "What's New!"
You'll find the answers we've received so far - How I Got Where I Am - listed to the left of the HOME PAGE about half way down and just before "Special Series."
CHRISTMAS THROUGH 40s-50s EYES
It's back and still growing! We've everything from the explanation of how reindeer fly to the story of the Grinch. You'll even learn what frankincense and myrrh are!
Just click on 40s-50s CHRISTMAS from the list on the left, make your selection and you'll be carried back the the days of our youth. Have fun
THE CINNAMON BEAR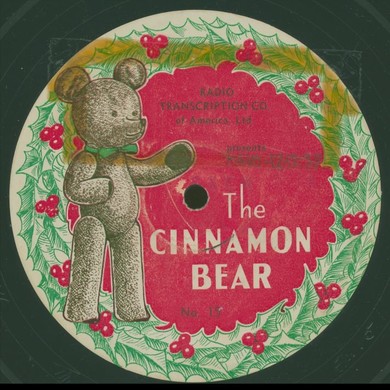 . . . and here's the Cinnamon Bear. The wonderful childhood classic returns to our site for you to share with your grandchildren or enjoy all over again.
For a brief history of The Cinnamon Bear, a map of Maybe Land, short bios on the actresses and actors who voiced the roles, and a few surprises, click on THE CINNAMON BEAR in the left hand column of this, our HOME PAGE.
http://www.thestreatorhighschool1958.com/The-Cinnamon-Bear.htm
THE REVIEW
Classmates can now share photos on any topic they feel the rest of us would enjoy in picture galleries. And, they can add as many gallaries as they wish. Simply:
Click on "The Review" in the column on the left side of the home page.

Click on an existing photo group to enter a gallery someone else created.

Go to the last page of pictures in the gallery and click on the "Create Your Own Photo Gallery Here" button at the bottom of that page.

Follow the directions on screen to create your gallery of photos.
Remember, as always on this site, you must be able to find where the pictures are on your computer. In other words, what file they are in; most will be in "My Pictures."
Only you can add photos to galleries you create, and all photos you add will be credited to you inside your gallery!
Well, it's not quite "The Review" we knew in high school, but it can be a wonderful way to share photos of your families, trips, old high school pictures, and other stuff that interests you.
ALL YOU NEED TO KNOW BUT ARE
TOO SHY TOO ASK
We didn't have the "computer advantage" when we were growing up so many of us are a little timid when approaching this newfangled contraption. With that in mind, a new forum section entitled "All You Need to Know But Are too Shy to Ask" has been created.
The new feature has directions for many of the skills needed to take full advantage of our web site. It even explains how to print those directions so you can have them in front of you as you navigate into new territory.
A second feature explains exactly how to obtain additional help with any problem which may come up. It's really simple: just email me, as site administrator; and I'll get the answer straight from the experts at Class Creator.
So now, with a little bit of determination, you can fully explore the site, send emails, reply to survey questions, comment in forums, and load pictures. Just click on the link below.
ALL YOU NEED TO KNOW BUT ARE TOO SHY TO ASK
or copy and paste the following into search
http://www.thestreatorhighschool1958.com/classforums_threads.cfm?fid=6385

A NOTE TO NEWCOMERS
Glad to have you online with us!
Please register and choose a password so you can explore the complete site we have created. It's filled with classmates' memories, pictures, updates, information on the Fifties, and more.
So Welcome to the World of Streator High School 1958!